Sporlan


Refrigerant Distributors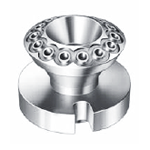 Sporlan Refrigerant Distributors are able to equally distribute flow from a thermostatic expansion valve (TEV) into each circuit of a multi-circuit evaporator coil making them superior to manifold feed systems.
Soprlan distributors are capable of being mounted in any orientation and can evasively handle two-phase refrigerant flow due to venturi technology.
Available from 2 to 20 circuits, and with multiple tube sizes, Sporlan distributors are a perfect fit for your application.