APV
Plate and frame Heat Exchangers for Refrigeration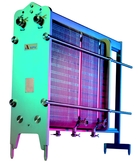 APV supplies the food, dairy, beverage and healthcare industries with innovative products, process solutions and support services. As part of Invensys plc, they combine expertise in process technology with leading intelligent automation systems.
APV invented and developed the plate heat exchanger which is at the heart of so many processes in the food, beverage, dairy and chemical industries, as well as having many heating, cooling and heat recovery applications.
RCC is your official BC distributor for all plate and frame heat exchangers for the refrigeration industry.
Product Spotlight