Sporlan


Refrigerant Strainers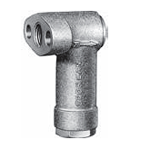 Sporlan strainers are designed for either liquid or suction line applications. They provide free flow with negligible pressure drop and can be used for a veriety of liquids.
All Sporlan Strainers contain the maximum effective screen area. Screen assemblies are seam welded, and the ends reinforced or capped with steal rings. This construction reduces the possibility of bursting the screen assembly.
Product Spotlight