Sporlan


Level Master Controls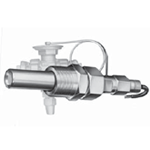 The Sporlan Level Master Control is a positive liquid level control device suitable for application to all flooded evaporators.
5 Benifits of Level Master Controls
1. Modulated Flow
The Level-Master Control provides a modulated flow and maintains practically a static liquid level in the low side.
2. No Moving Parts
The insert bulb controlling the liquid level has no moving parts. Control does not operate through use of a mechanical float device of any kind.
3. Simplified and Economical Installation
The insert bulb can be placed directly in the shell, accumilator or liquid leg for direct contact with refrigerant. Existing float control systems can be easiealy and economically converted
4. Not affected by turbulance
When agitation occurs in the low side, the effect on the Level-Master is merely that of striking a mean level and holding that level constant.
5. Tight CLosing
Assured by the spring action in the thermostatic expansion valve during shutdown periods when the heater element is off and liquid refrigerant is in contact with the bulb.