Sporlan


Solenoid Valves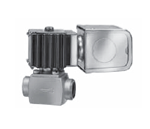 For more then 60 years Sporlan has provided sound engineering principals and craftsmanship to produce top quality solenoid valves for the air conditioning and refrigeration industry.
Testing is performed during all phases of production followed by 100% testing for body and seat tightness, electrical characteristics and valve operation.
Sporlan offers a complete line of splenoid valves to the industry. THey are available in all capacities and connection sizes for air conditioning and refrigeration applications.