Phillips Refrigeration
301H Low Side Float Valve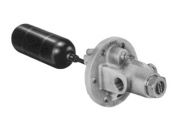 The 301H internal mounting fixed level float valves are modulating type liquid level controls, designed primarily for use with ammonia (R-717). They are fixed level controls, with a remote feed line required from the valve outlet to the evaporator or surge drum. The valves incorporate a replaceable cartridge that contains the working needle and seat. The cartridge can be removed without pump down of the surge drum or evaporator due to the secondary shut-off arrangement built into the valve. When used in halocarbon systems, these valves can be supplied with heavier float balls.
Product Spotlight