Phillips Refrigeration
301E Low Side Float Valve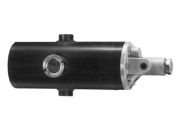 The 301E is an external mounting fixed level float valve. This is a modulating liquid level control, designed primarily for use with ammonia (R-717). The welded steel chamber has a Phillips® Level Eye® for a visual check of the liquid level. The valves incorporate a replaceable cartridge that contains the working needle and seat.
These valves are for use with unitary surge drums and evaporators, for intercooler or desuperheater level control, small ammonia or halocarbon chillers, or other applications requiring an external level control. A remote feed line is required from the valve outlet to the vessel or evaporator. When used in halocarbon systems, these valves are equipped with heavier float balls.
Product Spotlight