Phillips Refrigeration
700T Series Check Valve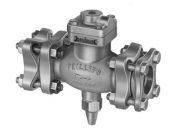 The Series 700-T 3-way check valves are flanged, piston type, with a replaceable seat disc made from teflon. They have a spring beneath the piston that holds the valve in an open position during normal operation so that no bleed to the downstream side is necessary to maintain fully open port.
A line from a high pressure gas source enters the 3-way check valve through the top bonnet, and is normally closed utilizing a solenoid valve. When the solenoid valve is opened high pressure gas enters above the piston and closes the main port. Gas then flows through the center of the piston, to the upstream side of the valve in a direction opposite to the arrow on the valve body. This will raise the upstream pressure to a level determined by a regulator, or a PHILLIPS Series 700 valve in the circuit.
Product Spotlight