Phillips Refrigeration
700S Series Check Valve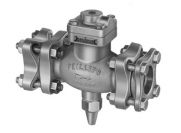 The 700S Check Valve (recognizable by the 1/4" FPT in the bonnet) is pilot-operated; there is a spring beneath the valve piston that holds the valve open during normal operation so that a full open port is maintained without a bleed of the piloting fluid. The 700S Check Valve is designed for use in evaporator suction line shut-off, for defrosting with either water or hot gas, and other applications.
The 700S Check Valve is operated by a supply of hot gas to the bonnet. In hot gas defrosting, a 1/4" line from downstream of the gas solenoid is used to shut the 700S valve at the time that the hot gas solenoid is energized. While the 700S valve is closed, there is a small continual bleed to suction downstream. When the hot gas solenoid is closed, pressure bleeds away from the piston, and the suction valve opens.
Product Spotlight