Phillips Refrigeration
Recirculating Injectors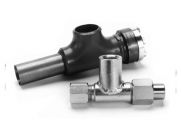 The Phillips injector may be applied to a "fixed" charge system or a "central" type system. Its application with a plate and frame unit allows for a smaller surge drum, thereby reducing operating cost, first cost, and maintenance cost. The cost savings in a "fixed" charge system are particularly advantageous because a liquid level control assembly is not required. The liquid level control assembly required for a "central system" installation may consist of either a Phillips float valve or a float switch with a solenoid valve. Multiple injectors may be employed to parallel plate and frame applications.
Product Spotlight