Phillips Refrigeration
Level Eye Sight Glasses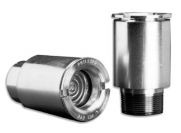 The Level EyeŽ is a reliable, industrial type sight glass. The unique reflex lens indicates the true level of liquid present without requiring a second lens. The lens appears dark in the presence of liquid and clear when liquid is not present.
The standard length frost shield allows clear vision with refrigerant temperatures down to -200F, and a 1 " longer frost shield is available for refrigerant temperatures below -200F.
Product Spotlight