AERO

Standard Air Coolers

Aero standard industrial air coolers (for air cooler or freezer application) consolidate the exclusive Aero all aluminum AHE Coil. The Aero plate fin Custom Coil may be assembled with Variable or constant fin spacing from one to eight fins per inch to meet your particular cooling requirements and moisture conditions. And Custom Coil "performance circuiting" assures optimum heat transfer for flooded, pumped recirculation, direct expansion or brine/water applications. Air, water, hot gas or water assisted hot gas defrost options are available.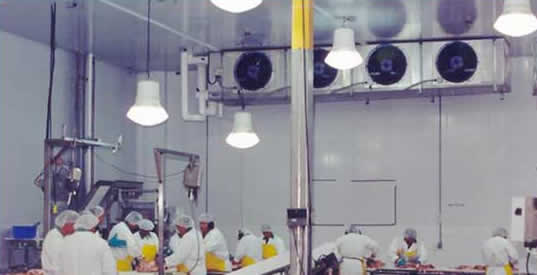 The standard air cooler line is produced with direct drive heavy duty "Unicast" aluminum axial fans. Aero dynamic fan discharge cones assure maximum "air throw" with minimum power consumption under a variety of flow and external static pressure conditions. Individually compartmentalized fan sections permit individual fan operation and prevent reverse fan rotation. This provides energy savings when the air cooler is operated at reduced capacity.
Product Spotlight