AERO

Special Applications
Aero is a company that is willing to solve your problems. They offer solutions to heat transfer problems in areas other than industrial refrigeration. They have made heat exchangers for test labs, wind tunnels, turbine inlet cooling, and industrial radiators.
Bring us your enquiries and let our engineering expertise tackle your problems regardless of whether they are for industrial refrigeration, heat recovery, or for the chemical, petrochemical, pulp and paper or oil industries.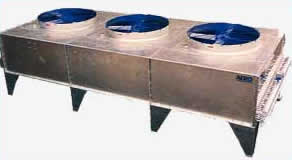 We offer our air cooled condenser for use in ice rinks. Aero air cooled condensers offer many advantages over the conventional evaporative condenser.

Product Spotlight