AERO

Custom Air Coolers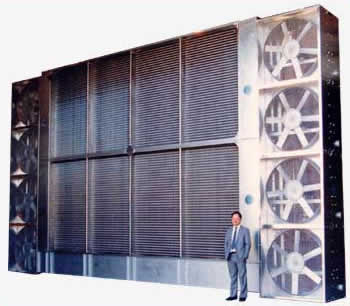 Aero has a well deserved reputation for taking on a challenge. Where applications require high external static pressure or special materials of construction, Aero can accommodate your needs. The specialized experience of Aero's application engineering staff and fabrication craftsmen make units that "fit" the space…as well as the cooling requirements. Whether it is a blast freezer coil with extra thick fins or a high temperature application with special corrosion problems, Aero has probably already built it. If unusual sanitation conditions or unique requirements exist for your cooling application, let us work with you to provide the cost effective solution.
Custom Air Cooler Examples:
Dual Discharge Air Cooler
Air is drawn upward through the fan and pushed out horizontally through two coils located at opposite ends of the air cooler.
This air cooler is used where a low profile and low velocity is required. Generally, dual discharge air coolers are used for storage areas and populated work areas. Applications include carcass chilling and blast freezers.
Penthouse Air Coolers
The penthouse air coolers are designed to be mounted on the roof. They are housed in an insulated enclosure, which is provided by the installation contractor.
The penthouse air coolers are used for both blast freezers and cold storage facilities. We also offer a 45 degree Air Discharge Air Cooler as an alternate.