Phillips Refrigeration
270A High Side Float Valve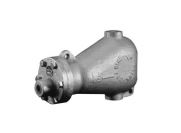 The PhillipsŪ 270A High Side Float Valve, opening on a rise in level, will transfer oil from a discharge line oil separator to the crankcase of the compressor, or to an oil reservoir.
This valve is used for oil in ammonia (R-717) and halocarbon systems. The all-steel valve has a simple needle and seat, and is available with or without chamber. Ductile iron or cast chambers are available for external mounting. Flanges are available for internal mounting.
Product Spotlight