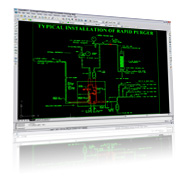 Everything is custom...
RCC's talented staff have many years in the refrigeration industry. We've experienced freezing fish on the open sea, to freezing your ice cream at the local plant.
Let RCC help you plan your industrial refrigeration needs from blast freezing to cold storage. We also specialize in multipoint purgers to remove any noncondenseables from your refrigeration system.