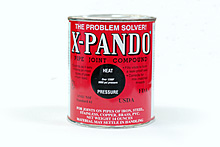 X-Pando
Pipe Joint Compound
X-Pando Pipe Joint Compound when properly applied provides tight, leakproof joints on most kinds of pipe. The expansion fills defective threads and flange faces. Use as a repair cement for sand holes in pipe, boiler tubes or iron castings and for repairing seams and joints. Can also be used for anchoring studs and bolts in a variety of surfaces.
Excellent for use on Diesel engines, oil burners, gas generators, ammonia washers, purifiers, pumps for high pressure or superheated work, large meters, valves and other difficult uses, as well as for ortinary purposes. Use for joints in pipes conducting oxygen, CO2, freon, butane, fuel oils, refrigerant chemicals, gasolene and many types of piping aboard ships etc. It is insoluble in most liquids, gasses and liquid gasses (acceptable for use with materials having a pH level between 2 and 12). Withstands HIGH PRESSURE (5000 psig), deflection, vibration and HIGH TEMPERATURE (1200 degrees F).
For more information, please contact the branch nearest you.
Product Spotlight