Refrigeration
SC Series, Subcoolers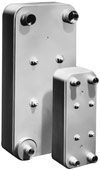 As the smallest and most cost effective Subcooler available, the SC Series is a strong performer in Supermarket, Food Process, and other Low temperature installations.
The SC Series is used where subcooled liquid refrigerant is needed to improve overall system efficiency, increase coil capacity and to eliminate liquid line bubbles.
The SC Series has large Easy Sweat™ connections, properly sized for refrigerant liquid lines, and totally sealed construction to protect from possible frost damage.
Stainless steel, copper brazed construction. ALL models have a built-in DX distributor for stable expansion valve operation and capacity control. Rated at 450 psi working pressure. U.L. Listed. Optional ASME Code. Optional European PED (CE) Code.
Click here for the SC Series Product Brochure PDF
Click here for the Kelvion Website